It's officially springtime so you know what that means – it's race season! Ocala, Brevard, Naples, Tampa, and Ft. Lauderdale were the first cities to kick off the beginning of the derby duck fundraising season. Keep reading to learn more about the rest of our upcoming fundraising events in the month of April!
April 15 – Second Harvest Food Bank
Second Harvest Food Bank is excited to host their second Acadiana Duck Derby in Louisiana on April 15th. Second Harvest leads the fight against hunger in South Louisiana by providing food access, advocacy, education, and disaster response. They provide food and support to 700+ community partners and programs across 23 parishes. All proceeds from the Acadiana Duck Derby benefit Second Harvest Food Bank and their work fighting hunger every day across Acadiana!
April 22 – Partners for Quality
All proceeds from the Steel City Duck Derby benefit the Partners For Quality family of nonprofit agencies. The family fun event includes games, music, food, face painting and more! Headquartered in McKees Rocks, Partners For Quality provides administrative management for organizations that serve individuals with intellectual & developmental disabilities and behavioral health challenges.
April 29 – Kiwanis Incredible Duck Splash
The 2023 Duck Splash will be the 18th Year for the KIDS! The Annual Kiwanis Incredible Duck Splash proceeds benefit numerous youth oriented non-profit organizations, programs, activities and schools throughout the city of Glendale and other communities of Los Angeles County. More than $1,200,000 has gone back into community programs benefitting local children and youth!
April 29 – Ken-Ducky Derby
This year marks the 20th Annual Ken-Ducky Derby for Harbor House of Louisville! It is their largest fundraiser of the year and at least 45,000 rubber ducks will race in the Ohio River. All proceeds from the Ken-Ducky Derby go towards helping to empower individuals with disabilities and their families to lead fulfilled and productive lives.
April 30 – Hope Floats Duck Race
For 19 years, Hope Floats Duck Race has brought KinderMourn families together to raise money to help others traveling the same road. This one-of-a-kind event at the Whitewater Center brings together people of all ages to watch thousands of rubber ducks rush through the rapids and share a meaningful afternoon where HOPE FLOATS and loved ones are honored. To date, the duck race has raised more than $2.5 million!
This past weekend, we kicked off the 2023 duck season in Ocala, Florida. Our Florida racers have had to face some weather challenges over the last few years, Hurricane Ian being the last one in 2022. Although not nearly as bad, the Marion Rotary Duck Derby had to make some last minute calls before the weekend due to rain and the cancellation of the Cattle Drive & Cowboy Roundup the derby was in conjunction with.
But we all know ducks don't mind a little rain, so the show or should we say derby must go on! By the time the ducks were ready to race Saturday morning, all 5,000 ducks had been adopted benefitting the Discovery Center and other local charities.
We have to commend the hard work of the Marion County Rotary Club, Discovery Center and the other city entities involved who helped make it happen with all the last minute changes! Let's hope sunshine will make an appearance next year!
Committee Organization​
Getting your staff, boards, and volunteers organized in correct roles is ​
crucial. To be efficient in the planning and execution of your fundraising event, GAME ​
suggests the following for the committee roles. We recommend a minimum of 2-3 people per ​committee.​
In many instances, an organization may select to combine two or three committees. It ​
is imperative that all committees understand they must work together and ​
communicate for the benefit of the rubber duck race. Often there will be some ​
crossover between two committees to finalize a particular aspect of the race.
Head Duck​
The Head Duck will oversee all aspects of the duck race and will make all​
decisions as it pertains to the structure, layout, and operations. The Head Duck ​
will communicate the needs of each committee to ensure a cooperative environment ​
in which the responsibilities and needs of each committee are being met. ​
Oversees all duck race committees​.
Capable of delegation and follow-up​.
The management and business leader.
Serves as the liaison between their organization and the GAME team.
Able to assemble quality committees, execute plans and meet deadlines​.
Skilled at recruiting and cultivating people best suited for the various key responsibilities​.
Sponsorship Chair
Requires a strong working knowledge of sponsorship acquisition​.
Oversees all sponsorship acquisition and is the main contact for sponsors ​.
Responsible for creating presentations for the media to solicit sponsor​s.
Capable of establishing sponsorship levels and the components involved​.
A background or understanding of marketing, advertising and promotion​.
Capable of contacting, negotiating, and closing media & sponsor deals​​.
Adoption Chair
Must have a sales background and sales experience​.
Secures adoption event dates and locations​.
Manages adoption event staff and volunteers.
Able to motivate teams to sell, distribute and collect adoptions​.
Able to recruit and cultivate volunteers to work at adoption events.
Collects adoption papers from adoption events and sponsor locations.
Equack Chair
Prior experience in database management and marketing​ is vital.
An advanced understanding of computer software and technology​.
Able to coordinate and train volunteers who will perform data entry.​
Works with GAME to setup and manage the online adoption website​.
Interface with the adoption committee chair, provides data of sales for meetings​.
Able to plan for week of event and race day sales, assigning tag ranges to teams and identifying race winners.
Logistics Chair
Experience with event production and assistance from volunteers and staff​.
Hands on person who is mechanically inclined, possessing strong organizational skills and execution​.
Able to execute a tagging party, provide manpower and a facility for transportation and storage of ducks.
Responsible for the race day event, including operations, manpower, venue coordination, race site and management, equipment, communication, racecourse design, test, trap, and post-race responsibilities​.
Responsible for post-race clean up, cleaning and organizing the ducks and getting them ready to ship the to the next race city.
Marketing & Social Media Chair
Plans and implements the digital marketing campaign for the duck race.
Creates new and engaging content to post on social media on a regular basis leading up to the event​.
Acknowledges and tags sponsors in social media posts as part of their sponsorship package​.
Communicates with GAME regarding their Facebook ad campaign and social media content.
In charge of posting to all social media accounts during duck season leading up to the duck race.
Organizing Your Volunteers​
Once you have organized your committees and identified the best chair for each committee, you will want to look at recruiting a few motivated volunteers to assist each chair. Make sure to identify the strengths of each person to ensure they are qualified and have the time to commit to the role. Once you have recruited volunteers, you should identify which committee is best for each person's skill set.​
The holidays are right around the corner and although most racers aren't in duck season, many have found ways to incorporate ducks during the holiday season. Showcasing ducks here and there during different holidays are a great way to keep ducks and your organization on top of mind when it comes to sponsorships and the community. Check out how racers are doing just that this season!
Holiday Parade
 2. Adoption/Race Information Booth
3. Duck Christmas Tree
4. Elf on the Shelf Accomplice
5. Stocking Additions
Duck season may be coming to a close, but the holidays are a great opportunity to show your duck partners your appreciation! We encourage you to reach out to sponsors, duck adopters, and potential donors for Thanksgiving in a fun and festive way. Below are a few ideas to help you get started. 
Happy Thanksgiving from your GAME family. We hope you have a great holiday!
Halloween
 is coming up, and we've got lots of Quacky content for you to use located in the Shared Images on Equack.
You can access the Shared Images by logging in to your Equack site and clicking on Race Dashboard. Scroll to the bottom of the page under My Account and click on Files and Documents. Then click on Shared Images.
Remember to post on your social media accounts regularly to keep your sponsors, duck adopters, and community engaged year-round. Happy 
Halloween
from all of us at GAME!
Holiday weekends are always something we look forward to. They're full of local events and spending time with family and friends. This past Labor Day weekend, we had 3 races including our largest race of the season as we come close to the close of summer (here in Arizona, not so much).
First up was the Gwinnett Duck Derby hosted by the Rotary Club of Sugarloaf on September 1st. 6,200 ducks were adopted in continued efforts to support local charities. Some current and past beneficiaries have been: the Special Needs Schools of Gwinnett, Lawrenceville Boys & Girls Club, Annandale Village, Gwinnett Medical Center Foundation, Rainbow Village, Gwinnett County Library Foundation, Gwinnett Tech, Because One Matters, Nothing But the Truth Food Ministry and several title 1 schools in Gwinnett County. First place winner took home $2,500 which was announced virtually the day of the race.
Next up was 2nd year veteran racer, The Great Rubber Duck Race in Charleston, WV. The event took place on Saturday, September 3rd raising money for the United Way of Central West Virgina, who support the community through education, health and financial stability. Over 3,000 ducks were adopted and one lucky winner took home $3,000 cash along with additional prizes for 2nd-10th place and dead last duck.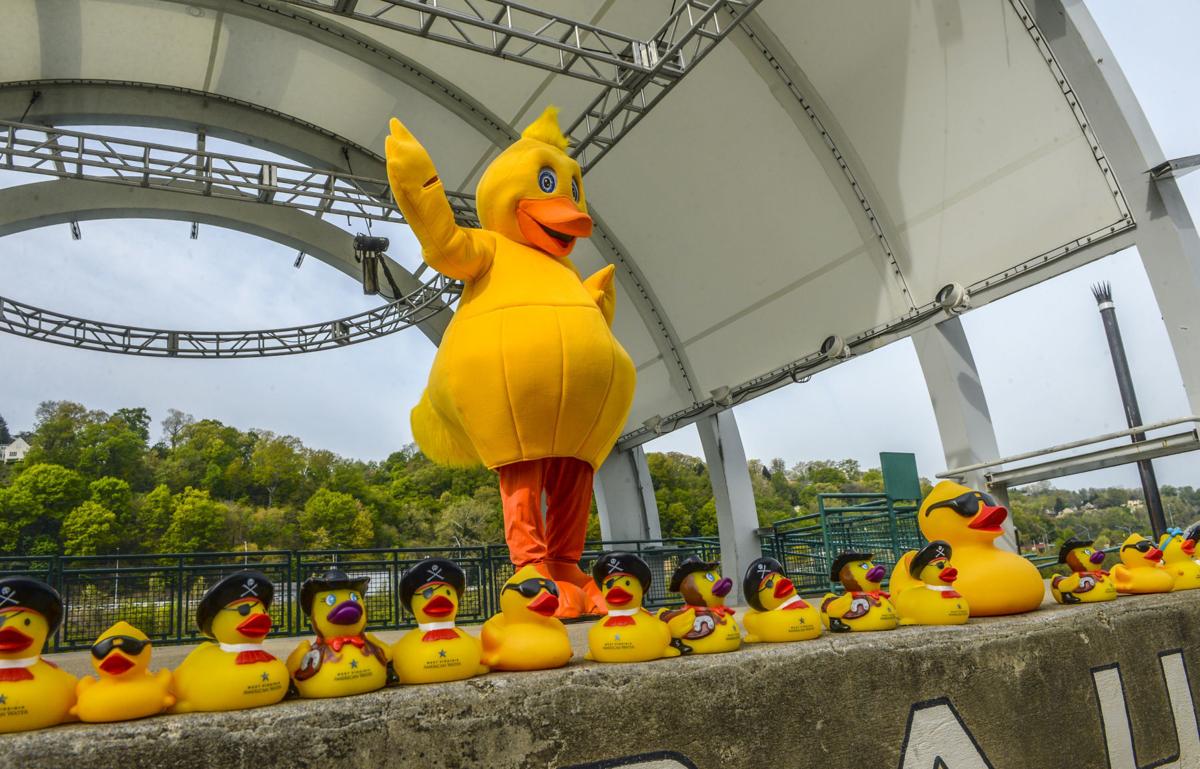 Last but definitely not least was the Rubber Duck Regatta in Cincinnati on Sunday. For the 28th year, Freestore Food Bank broke record numbers by getting approximately 230,000 ducks adopted (final numbers haven't been confirmed). The ducks hit the water again after a couple of years going virtual due to the pandemic to raise money to provide a reliable source of nutritional food for more than 90,000 kids in the tri-state area. First place duck took home a new 2022 Honda CRV-EX.
Each weekend the GAME team is blown away by the efforts of each nonprofit we have the privilege of working with. Whether it's 2,500 ducks or 200,000 ducks that get adopted, we love seeing the impact year over year every racers makes in their community. We've got quite a few more races coming up before we close the 2022 season- check out Duck Races to see who's up next!
It's important to start reaching out to sponsors early, which is why at GAME we suggest a 7-9 month timeline for our racers. We encourage racers to secure as many sponsors as possible to cover the costs of the duck race. You can get creative with what types of businesses you reach out to, and remember that anything that adds value to your event is worth your time. Below are just a few types of sponsors that you can target. If you need more ideas, be sure to reach out to your GAME team!
Over the year's, Pace Center for Girls has been notorious for having some of the most creative duckorated ducks. Each year, local businesses will buy into the VID (Very Important Duck) package where they receive a corporate duck as part of their sponsorship. They then have the ability to dress, paint and decorate their duck any way they want in hopes to regin in the most votes for the People's Choice Awards for Best Dressed Duck. Winning duck takes home a trophy and of course bragging rights.
Here are some of our favorites that we've come across over the years.